My work schedule has been crazy, so I have not been able to regularly post. I'm trying to squish blogging time into each day, but it's been difficult, what with being tired and being at work and then being tired and then being at work and tired... But I've still been reading! When I can, which is mostly on public transportation to and from work, on the treadmill at the gym, a little bit in between bites of lunch/dinner, and for the few minutes before my eyes slam shut at night.
Not a whole lot of time to devote, really, which is a shame because there are a ton of great recently released and upcoming books. This morning, I got up early to finish Michelle Cooper's excellent
A Brief History of Montmaray
, which, given my exhausted self, should tell you something about this book. It's fantastic, perfect for any age - really, I probably say that a lot, and as a devoted reader of children's lit, my credibility is questionable as to recommendations for adult readers, but this one is seriously that good. It's another one of those children's titles that feels instantly classic, like something I would have read in school or from my aimless wanderings through the stacks of my local library. This is a book I would have sprawled with on the library floor or tucked away in one of the cool reading boxes they had in the kids/YA area. Anyway, it made me feel like a twelve year old reader again, and that's a really good feeling.
Anyhoo, the real heart of this post: The winner for the first "Heart is a Lonely Reader" Giveaway.
Haley Mathiot
has won a copy of
Bird in Hand
by Christina Baker Kline and a copy of
Songs for the Butcher's Daughter
by Peter Manseau. Congratulations, Haley!
They will be sent to her by chariot pulled by a quartet of handsome stallions.
...Or, you know, by padded envelope via the US Postal Service.
And thus ends the first giveaway. But don't despair, those who did not win, because I have an all-new giveaway.
Announcing the second
Heart is a Lonely Giveaway
! Because it's only for one book, this one will run just until the start of November. As of Nov. 1, there will be a winner declared.
Okay, so up for grabs: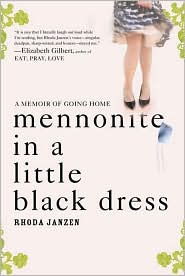 Rhoda Janzen's thoughtful and hilarious
Mennonite in a Little Black Dress: A Memoir of Going Home
. This hardback copy was generously donated by Melissa Weisberg of Macmillan. (As stated in the pub rep edition of my Friday Finds, I love Melissa and think she's just the bee's knees.)
About
Mennonite in a Little Black Dress
, from
Publisher's Weekly
:
At first, the worst week of Janzen's life—she gets into a debilitating car wreck right after her husband leaves her for a guy he met on the Internet and saddles her with a mortgage she can't afford—seems to come out of nowhere, but the disaster's long buildup becomes clearer as she opens herself up. Her 15-year relationship with Nick had always been punctuated by manic outbursts and verbally abusive behavior, so recognizing her co-dependent role in their marriage becomes an important part of Janzen's recovery (even as she tweaks the 12 steps just a bit). The healing is further assisted by her decision to move back in with her Mennonite parents, prompting her to look at her childhood religion with fresh, twinkling eyes. (She provides an appendix for those unfamiliar with Mennonite culture, as well as a list of "shame-based foods" from hot potato salad to borscht.) Janzen is always ready to gently turn the humor back on herself, though, and women will immediately warm to the self-deprecating honesty with which she describes the efforts of friends and family to help her re-establish her emotional well-being.
As a side note, several booksellers at the store have read this one, and they have all been similarly engaged with the book. Mainly it's been described for fans of Elizabeth Gilber, Jen Lancaster, etc. That's not much my thing, but this one is a standout in the crowd.
Rules
: Just leave a comment, by November 1st, with your name and an email address.
Enter now!
Thanks to West of Mars for helping to promote this giveaway. She's hip, she's cool, and she's local (well, my area local), so check out her site if you haven't already.