Hey there, gloomy Friday! So rainy and gray and cold... A great way to usher in October, wouldn't you say?
I can't stop yawning. This weather makes it nearly impossible for me to do anything but cuddle up on the couch and read. Lucky for me, I've had a fairly good week of finds. Most of these were purchased from my store, via the bargain kids section (we have a fabulous and tough to beat kids bargain section).
Why I keep buying picture books, I don't understand. I need my close friends to start having children so I can put these books to good use.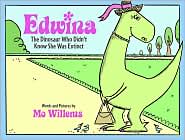 -
Edwina, the Dinosaur Who Didn't Know She Was Extinct

by Mo Willems
Anything Mo Willems that goes on bargain, I'm quick to grab. This one is cute, admittedly not in my top tier favorites, but still, I love Willems' play on true and false, real and imaginary, and what can happen when a character calls another character out on being fictional. He's not afraid to go meta with his kids books, but they're so funny and fun, kids don't even notice the ironic humor adults so love about his books.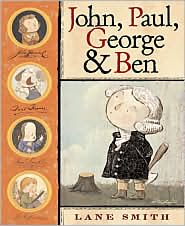 John, Paul, George and Ben

by Lane Smith
History lessons were never funnier. A really clever picture book about the Founding Fathers, Smith goes from funny, but true to funny and not true to funny and maybe true, to just plain and absolute funny. Smith's illustrative style really works here, as the historical characters are simplified enough to echo the appearance of their young readers.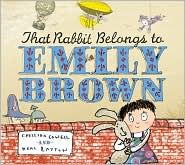 That Rabbit Belongs to Emily Brown

by Cressida Cowell, illus. by Neal Layton
Emily Brown has an extraordinary rabbit, so perfect a companion that the selfish Queen Gloriana first offers (hopelessly) to buy the rabbit, then resorts to stealing it for herself. Emily must save her bunnywunny and possibly teach the Queen how to get the most out of her own playthings. The illustrations and sly humor are terrific. This makes a great storytime companion to Mo Willems'
Knuffle Bunny
.
As far as non-picture book finds...
The Rules of Survival

by Nancy Werlin
I loved her latest book,
Impossible
, so when I saw the hardback of one of her older titles, and for $3.50 nonetheless, I snatched it up immediately. Judging from its online presence, this is her most popular title - an abuse story written in the form of a letter from a boy to his younger sister. Because it's a backlist, I probably won't get to it for a while, but I'm glad to add more of Werlin to my library.
Monster

and

Amiri and Odette

by Walter Dean Myers
Myers won a Printz Award and was a National Book Award finalist for
Monster
, about a boy being charged as an accomplice to a murder. To process and control his fears about his situation, he imagines the trial as a movie script.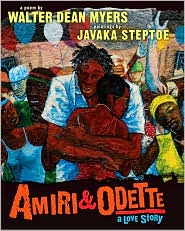 Amiri and Odette
is a
Romeo and Juliet
-esque tale, told in equal parts illustrations and texts. Got both of these in the bargain section, before the teachers came in and wiped out the stock.
How to Paint a Dead Man
by Sarah Hall
After reading the
Boston Bibliophile's review
, I'm fairly certain I wasted my money. Oh well, wouldn't be the first time. At least now I can lend it out to serious-minded friends who want to try it out. I'm still fairly curious about it, so I may still try to give it a go.
Going Bovine

by Libba Bray
For those unfamiliar, Libba Bray is the author of the Gemma Doyle trilogy, a popular fantasy series whose last book,
The Sweet Far Thing
, came out in paperback last Spring. This is Bray's first book outside the series, a madcap road adventure with a sixteen year old boy suffering from Mad Cow's disease, a dwarf, and a lawn gnome. Not sure how this is going to do with the teen reading audience, as both the title and the cover are not exactly the type of thing that lures Bray's typical demographic. I'm considering it currently being read, but really, it just lies unopened in my bag while I polish off
Pictures at a Revolution
.