It may be too early to post a list of Halloween favorite titles, but I'm sort of stuck on retail land, where the minute one yearly milestone passes, another begins. That's why the day after Halloween, Thanksgiving and Christmas displays and decorations go up. The stores are going to get you with their holiday merchandise, and they're going to get you early. Bookstores are no exception.
Still, nearly two months straight of Halloween books? Meaning two months of Halloween decorations, music, and themed storytimes and events? Sign me up! This is my favorite time of year. There's a reason the Halloween display is the most elaborate display in the department - we even have a flaming cauldron (courtesy my lovely co-workers, Mo and Brandon).
It's a slow day (too many people out drinking last night for the Steelers' opener), so I'll take a minute to cover some excellent new (and new to me) kids' Halloween titles.
-
The Witch's Guide to Cooking with Children

by Keith McGowan (and illustrations by Yoko Tanaka)
A contemporary Hansel and Gretel, with clever, worldly children replaces the naive waifs of the original story. When Sol and Connie come across their weird old neighbor's dog carrying a bone in its mouth, they discover not just any old bone, but a human femur. But just how dangerous can investigating the old lady next door be? A neat twist on the old folk tale, it's fleshed out even further by the vivid and detailed illustrations by Tanaka. [Hardcover, $15.99]
-

The Runaway Mummy: A Petrifying Parody

by Michael Rex
Coming up with one genuinely classic parody,
Goodnight Goon
would be enough for most satirical children's authors, but not Michael Rex, who could not resist the urge to go after Margaret Brown's other seminal kids' work,
The Runaway Bunny
. No matter what incredible creature Little Mummy becomes, Mother Mummy is there right beside him, a fire-breathing dragon to his mountain-sitting gargoyle, or maybe just a scary, shrieking mummy to frighten off the normal parents that drive him to karate and piano lessons. Not quite as surreal as Adam Rex's
Frankenstein Takes the Cake
or as starkly sardonic as Jon SciesZka's
The True Story of the Three Little Pigs
, this is parody light that will appeal to a wide range of children. [Hardcover, $15.99]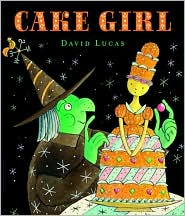 Cake Girl

by David Lucas
A clever tale about a witch and the girl companion she creates for herself out of cake. At first the relationship is defined by the creator and the created, but gradually the cake girl establishes an equal ground with the witch, one that allows them to appeal to each other as friends instead of master and servant. A great kids book in a very old illustrative style that is still visually appealing to young readers. [Hardcover, $15.95]
Pumpkin Soup

by Helen Cooper
I had pumpkin soup for the first time when I was in London, and I've never forgotten my surprise at the taste of this savory, fortifying soup. Helen Cooper's book is very much like that meal: simple, classic, hearty, and very, very satisfying. A cat, a duck, and a squirrel make the perfect pumpkin soup... until tense group dynamics ruin the flavor. Can the soup - and the friendship - be saved? [Paperback, $6.96]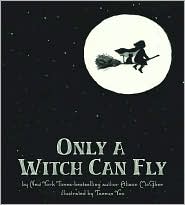 Only a Witch Can Fly

by Alison McGhee (illustrated by Taeeun Yoo)
One little girl wants to fly. With her broomstick, the support of her trusty cat and disbelieving little brother, she attempts to fly. At first she fails, but with perseverance and bravery, she may just achieve her moonlight sky trip after all. Adorably rendered by illustrator Yoo and lovingly told, I couldn't wait to pick this one up for storytime.
Boo to You

by Lois Ehlert
I am an unabashed devotee of Ehlert's books, but this one is absurdly adorable. The garden mice are getting ready for their annual harvest feast, but the presence of a scary cat threatens to destroy the gathering... that is, unless the crafty mice can scare it away before it ruins the feast. Done in Ehlert's signature mixed media visual style and told in simple, easy rhyme, this is a great Halloween/fall tale for kids a little too young for spooks and monsters. Especially handy is the guide to harvest colors and crops, much of which is featured in the actual story. And the two-page spread of jack-o-lantern pictures features simple carving directions and an easy roasted pumpkin seed recipe. Fantastic.