Woot! Let's put on our happy faces - it's time for the very first
Heart is a Lonely Reader
book giveaway.
First, how to enter: For the first giveaway, I'm not doing anything fancy. Just your standard "Leave a comment with your email so I can get in touch with you if you win."
I will be posting this contest on
West of Mars
, so hopefully these books will go to a good home. Thanks to Anastasia of the great book blog,
Birdbrain(ed) Blog
for her excellent suggestion. If I get any new readers here, it will be thanks to her insight.
Enough preamble! Up for grabs is a set of two recently released hardbacks. Both are works of adult literary fiction, one from Harper Collins, one from Simon & Schuster. Because I don't have too much time for the adult and serious these days, I'm putting them out there for someone else to enjoy.
Songs for the Butcher's Daughter
by Peter Manseau.
From the publisher:
"Summer, sweltering, 1996. A book warehouse in western Massachusetts. A man at the beginning of his adult life -- and the end of his career rope -- becomes involved with a woman, a language, and a great lie that will define his future. Most auspiciously of all, he runs across Itsik Malpesh, a ninetysomething Russian immigrant who claims to be the last Yiddish poet in America. When a set of accounting ledgers in which Malpesh has written his memoirs surfaces -- twenty-two volumes brimming with adventure, drama, deception, passion, and wit -- the young man is compelled to translate them, telling Malpesh's story as his own life unfolds, and bringing together two paths that coincide in shocking and unexpected ways.

Moving from revolutionary Russia to New York's Depression-era Lower East Side to millennium's-end Baltimore with drama, adventure, and boisterous, feisty charm to spare, the unpeeling of this friendship is a story of the entire twentieth century. For fans of Nicole Krauss, Nathan Englander, Richard Powers, Amy Bloom, and Lore Segal, this book will amaze at every turn: narrated by two poets (one who doesn't know he is and one who doesn't know he isn't), it is a wise and warm look at the constant surprises and ineluctable ravages of time. It's a book about religion, love, and typesetting -- how one passion can be used to goad and thwart the other -- and most of all, about how faith in the power of words can survive even the death of a language.

A novel of faith lost and hope found in translation, Songs for the Butcher's Daughter is at once an immigrant's epic saga, a love story for the ages, a Yiddish-inflected laughing-through-tears tour of world history for Jews and Gentiles alike, and a testament to Manseau's ambitious genius. "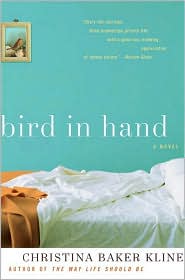 Bird in Hand
by Christine Baker Kline
From
Publishers Weekly
:
In her fourth novel (after

The Way Life Should Be

), Kline traces the construction and collapse of two long-term relationships. On her way home to New Jersey after an awkward party for her lifelong friend Claire's highly autobiographical first novel, Alison gets into a car accident that kills a boy in the other car. Even though the accident wasn't her fault, Allison, a mother of two young children, is wracked with grief and guilt. Her husband, Charlie, also struggles with the impulse to blame his wife, especially as he longs for any excuse to escalate his nascent affair with Claire and end his marriage.

Episodes detailing the inevitable collapse of Alison and Charlie's marriage, as well as Claire's marriage to her well-meaning husband, Ben, are interspersed with vignettes revealing the four friends' 10-plus-year history together. Shifting perspectives and thoughtful interior monologues reveal just how isolated, and in some cases misguided, the characters are. Kline's unflinching gaze and lovely prose sets Kline's novel apart from the herd of infidelity/marital ennui novels. It's well-done, thoughtful and thought provoking.
These books will come lovingly packaged, sent right to your doorstep, and who knows? There might be all kinds of other goodies packed up inside. I have a lot of random stuff around. You might just win it.