Maybe it was the recycled, shared air in the Dealers' Room at
Horror Realm
on Saturday. It was probably the inevitable consequence of everyone around me getting sick. Both colleagues and friends have been succumbing to the same cold for the past few weeks, and I somehow managed to evade it... until now.
Being sick during time off isn't ideal, but at least I don't feel any pressure to
do
stuff. Lacking a significant stretch of time or abundance of funds, a sleepy staycation seemed like a decent idea. Having a cold makes homebody-ness necessary.
Reading while sick has its ups and downs. Not all books are cold-day books. It's too easy to be distracted from reading that is particularly dense or dry. Eyes are quick to tire of very small type and minimal margins. Even the coloration of a book's pages can affect its readability.
A lot of people use their sick day reading to indulge in guilty pleasures, cheesy romances or mysteries featuring a weekly knitting club's members set in a small, New England town. While I'll use being sick on the couch as an excuse to watch terrible, unforgivably bad movies (I have Fear Net and I'm not afraid to use it), my patience for clumsy or convoluted writing is worn especially thin when sick. That's not to say I'm paging through
Violence
by Slavoj Zizek or
attempting, for the umpteenth time, James Joyce's
Ulysses
. Rather, things that will escape my notice when I'm reading amidst a current of activity are more likely to trigger my annoyance when being read in a vacuum of lonely sick time in bed.
Bad writing can be exhausting. So can really good writing. When you're sick, the last thing you want to do is struggle with what you're reading. I tend toward the humorous, subtly crafted literary fiction (Zadie Smith is a good example - an author of extraordinary talent, but whose work doesn't itch with trial or writerly posturing), magical children's fiction, and light or pop culture-centered non-fiction.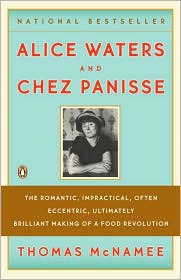 Food writing is fairly safe - During a particularly bad cold last year, I devoured several food-related biographies and chronicles, including the enchanting
Alice Waters and Chez Panisse
by Thomas McNamee, as well
Waiter Rant
,
The Devil in the Kitchen
by Marco Pierre White, and
My Life in France
by Julia Child. The episodic nature of most food-related tales lends itself to the pick-up-put-down habits of sick reading. Plus, it's fun to think about frivolous things like a nice meal when you're drowning in snot-clotted tissues and orange juice.
Short stories are suitable in similar fashion - finish one, and you feel fairly accomplished in your sick state. Go for writers whose simplicity works on multiple levels of sophistication, and whose plots and characters are good enough to make-up for the possible delay of mental faculties to put together more complex thoughts of symbol, theme, and tone. Raymond Carver is a perfect example. I'm also a longtime devotee of Alice Munro - any of her collections will do, but I cut my teeth on
Hateship, Friendship, Courtship, Loveship, Marriage: Stories
. Two very good recent short story collections: Barb Johnson's New Orleans tapestry
More of This World or Maybe Another
and
Tunneling to the Center of the Earth
, a spectacular debut collection of short fiction by Kevin Wilson.
Graphic novels are always good - the emphasis on visuals relieves strain on the eyes. I go for lean serials in favor of longer tomes. I've mentioned it before, but
Y: The Last Man
will make anyone a convert to the comic form. A sharp, funny, and surprising series surmising what would happen if a global plague wiped out every male on Earth... except one. I've recently dug into Vertigo's other big series,
Fables
, a clever take on well-known fairy tale characters and tropes.
Any sick day reading suggestions? How do you spend your sick days?