I have been in a mild reading slump as of the past two weeks. I read
The Graveyard Book
, which I adored, and then… well, it's the weird mystery with reading: sometimes even the best titles don't click. It's all about timing. After book club last Thursday, I put down my half-finished copy of
Twilight
, and I have to pick it back up, despite meaning to – it's still on my coffee table, waiting to be finished. I'm also more than halfway through
The Media Relations Department of Hizbollah Wishes You a Happy Birthday
, which, while informative, engaging, and definitely the kind of thing my mind should be sucking down right now, is not quite doing it for me either. I'm enjoying en route to work, or in the few minutes of clarity I have, right after I wake up… but it's not the kind of book that has kept me from chanel-surfing, watching
Harry Potter and the Goblet of Fire
on ABC Family or any random reality show on Bravo or even
Law and Order: Special Victims Unit
.
If a book can't keep you from watching the nearly 24 straight hours of
Law and Order
that there always is on cable TV, then it's not doing its job.
It seemed like I was about to go through one of those really bad reading droughts that can derail my booklist for months. Then a few bright spots appeared:
- A book I've been meaning to read,
The Knife of Never Letting Go
, has been released in paperback. Naturally, I snapped up a copy. I already have an ARC of
The Ask and the Answer
, the follow-up, so if I get into the series – fingers crossed, but it sounds awfully promising – I'll have an instant second read.
- Frank Portman – or Dr. Frank to those of us MTX devotees – has a new book coming out soon, a follow-up to
King Dork
. An ARC for his new one,
Andromeda Klein
(great name) arrived in the mail. I'm going to have to get out my old Mr. T Experience albums and read while I rock out.
- Lovely Sarah Nasif is sending me an upcoming release off of Egmont USA's fall line-up,
Candor
, which I read about in Shelf Awareness last week and sounds like just the thing to keep my reading fires aflame. The Shelf Awareness review of
Candor
can be read
here
.
- I've been trying to keep a commitment to read (or check out) at least one book featured in the
New York Times Book Review
every week.
Media Relations Department of Hizbollah
was one of those titles. Yesterday morning, skimming the times before rushing off to work, I read a quick one-page review of a recently released title that I remembered I had a galley for, albeit, buried in the one of the three lockers I take up at work.
That's how I came to spend most of my Tuesday reading
How I Became a Famous Novelist
, a book whose cleverness vastly outweighs its plot, but that's all part of it. You would think that Steve Hely, a comedy writer (formerly of
Late Show with David Letterman
, now unfortunately mired in the depths that is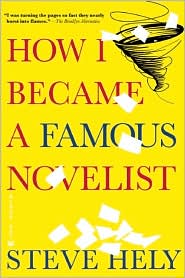 American Dad
), was a grizzled veteran of the literary set. Yet, his skewering of popular (and at times, populist) literature, the nature of bestsellers, and the culture of literary fame comes from the distinct observation of someone who has not actually delved in that gray area of writing a famous novel.
This works to his advantage, as he is allowed to spend more time on pure literary parody and less on the moral and creative consequences of writing a hack novel (this crisis being a weight, dragging down the second half of the book). Not that there shouldn't be discussion of the problematic dynamics of readership, popularity, and literary merits. But Steve Hely is not the writer for that task.
Instead, the first half of the book displays his genius as literary parodist. Hely's stand-in is slacker Pete Tarslaw, an expert hack in the making, working for a shady entrepreneur, penning college admissions essays for rich underachievers and foreigners. Pete briefly describes idealized college life as a blurry, hazy whirl of cutting academic corners, drinking too much and lying around with his girlfriend at the time, Polly Pawson. But following graduation, Polly breaks up with him, headed for law school and a fulfilling future, while Pete, stranded in the mundane present by heart ache and his avowed laziness, inhabits a muddled middle ground between his formative years and adulthood.
That is, until he finds out that Polly Pawson is soon to be wed. Embarrassed and jealous, Pete takes inspiration from the king of contemporary literary fiction, Preston Brooks, ascribing to become a bestselling author of the type that wins over college girls at university lectures and bookstore appearances. "That's why I always tell people Preston Brooks was my inspiration. Because right then, I figured him out. I realized what a magnificent, ridiculous bastard he was." Peter sets out to become a famous author to one-up his ex at her wedding.
This is all, of course, well beside the point. Hely's thin premise is a vehicle for his much stronger skill: providing the kind of hack literary Olympics that allow his parodies to span genres, eras, and levels of popularity. Hely hits it so on the head, it's a wonder that many of the titles on his
New York Times Bestsellers List
don't already exist:
Guess
("An economist analyzes the importance of random choices in everything from investments to choosing sushi to professional bull-riding."),
Manassas
("Accompanied by the ghost of Ulysses S. Grant, a young writer goes in search of his ancestor, a gay Civil War soldier."),
The Balthazar Tablet
("The muder of a cardinal leads a Yale professor and an underwear model to the Middle East, where they uncover clues to a conspiracy kept hidden by the Shriners."), and – my favorite -
The Jane Austen Women's Investigators Club
("Housewives inspired by the 19th century novelist probe a murder mystery in their quiet suburb.").
The underbelly of what he's describing is the real bite of the novel: bestsellers that go "from store shelves to home shelves to used-book sales unread." Tarslaw's literary world is cluttered with accomplished hacks. A crime novelists who farms out writing her hit series to "starving graduate students," a famous author of military history who claims to be able to "make the switch over to movies, video games…" because of his ability to tell a story without "prose, frills." Pete's book becomes an unlikely, unwieldy success, built off of everything he learned about writing from the bestsellers lists.
"Rule 5: Must include a club, secrets/mysterious missions, shy characters, characters whose live are changed suddenly, surprising love affairs, women who've given up on love but turn out to be beautiful."
Pete's book,
The Tornado Ashes Club
, is a literary Frankenstein's monster. But while Tarslaw's creation of the monster is hilarious, and it's abrupt rise is even more amusing, the second half the book is dragged down by unexpected existential crisis. While his book (and it's success) is based off the notion that people will buy anything that is comprised of certain basic plot and prose elements, Pete keeps finding himself in situations where people treat "serious" writing very seriously, such as a talk at the University of Billings. Seated with the professor and several of his writing students, Pete is confounded by a request for "the lonesomest story he ever heard." While professor and students alike tell their their own horrifying tales, he sits there rendered almost speechless.
Truth in writing is a batted about debate in the book – writing truth, writing truthfully, being truthful to readers, readers seeking truth. But Hely never really gets to any breakout moment with Pete: his comeuppance is appropriate, but without a definite catharsis or revelation for the character. Which is perhaps the point: Hely has Pete condemned (very, very publicly) by an author and his faithful readership, then backtracks a little, allowing a character to re-appraise Pete's take on literary success.
Having both a degree in English Literature, years experience working in both a library and bookstore settings, I feel like I've got a pretty good grasp of what is popular, but I still have never quite grasped
why
. Hely opens up a very good debate, but the debate is nowhere near as interesting as the inane titles, ridiculous authors, cleverly hackneyed and precious plots, and hilarious literary world run-ins. Peter Tarslaw is an appropriate blank slate for these elements: a slacker, not particularly likeable or unlikable guy, with little interest in writerly or moral debate, and little to no genuine remorse or reaction to his own subterfuge.
How I Became a Famous Novelist
is a great read: quick, energizing, and very, very funny. It may hit a little to home for some, but it spares no spite on any readership, whether it be the "sophisticated" lit. fic. set or the sentimental ladies of chick lit or the beach-going or subway riding followers of icy crime fiction. Everyone gets a little blasted, a little vindicated…. even the hacks.